Cisco IP Phones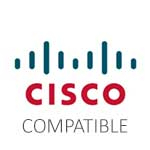 Headset Adapters for Cisco IP Phones
Do you have Cisco IP Phone and you need a headset? We have a solution to convert a traditional PC headset, smartphone headset or cordless phone headset into direct connect headset compatible with Cisco IP Phones.
We have three types of Headset Adapters for Cisco IP Phones for different types of headsets:
PC Headset Adapter for headsets with dual 3.5 mm audio plugs (not for USB headsets)
iPhone Headset Adapter for smartphone headsets with a single 3.5 mm 4-conductor plug (TRRS plug)
Headset Adapter for a headset for cordless phone with 2.5 mm audio plug.
These adapters are compatible with most Cisco IP Phones with a Headset Port. Here is a list of the most popular phone models:
Cisco 7960, 7961G, 7962G, 7965G
Cisco 7970, 7971G, 7975G, 7985G
Cisco 8945, 8945G, 8961, 9951, 9971
However, not all Cisco phones have headset capabilities and modular headset jack. Here's a list of Cisco phones that are not compatible with our adapters:
Cisco 7902G, 7905G, 7906G, 7910G, 7911G, and 7912G (Phones do not have a headset jack and require an external headset / handset switch)
Cisco 7920, 7921, 7921G, 7925G, 7926G, 7929 (Phones have a 2.5 mm audio headset port and require a headset with 2.5 mm plug.)
All Cisco (Linksys) SPA303 / SPA500 / SPA900 (Phones have a 2.5 mm audio headset port and require a headset with 2.5 mm plug.)